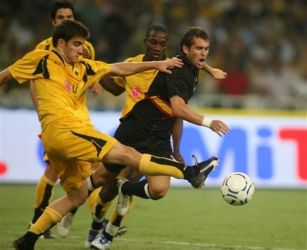 In these times full of Serie A, Champions League and Uefa-cup Genoa has to play tomorrow-evening at 18.00 hours in the fourth round of the Italian cup against Serie C-1 team Ravenna. In the third round Genoa beat Mantova with 3-1 by goals of Olivera (2) and Milanetto. Ravenna has beaten Serie B-team Rimini (by penalty's) in the second and Palermo (1-2) on Sicily in the 3rd round, so we can say they are real cupfighters.
Mr. Gasperini and his staff selected the following 20 players:
Goalkeepers: Rubinho, Scarpi
Defenders: Biava, Bocchetti, Criscito, Ferrari, Sokratis
Midfielders: Brivio, Cofie, Domingo, Juric, Mesto, Modesto, Roman, Rossi, Vanden Borre
Strikers: Jankovic, Milito, Olivera, Sculli
Because Genoa plays Sunday the important homematch against Napoli it is expected that tomorrow the substitutes will play against Ravenna. The expected line-up is: Scarpi; Sokratis, Biava, Bocchetti; Mesto, Roman, Vanden Borre, Brivio; Jankovic, Olivera, Sculli.