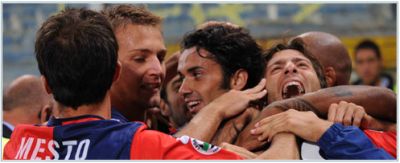 In the history Genoa played 4 times at home against Siena and our Rossobluboys never won. The first 2 matches ended in a draw: 1-1 and the last 2 matches Siena did win by 1-3 in Marassi. Time for a change ! With Siena play 5 ex-Genoani: Manuel Coppola (Genoa Club Amsterdam Genoano of the year 2005-2006), Paul Codrea (with Genoa in the years 2001-2003), Daniele Portanova (1998-1999), Abdelkader Ghezzal (bought and sold by Genoa this summer) and one of the biggest talents in the world: Fernando Forestieri who is rent to Siena, but 100% owned by our president Mr. Preziosi.
Mr. Gasperini selected the following 18 players:
Goalkeepers: 83 Rubinho, 73 Scarpi. 
Defenders: 25 Biava, 26 Bocchetti, 4 Criscito, 27 D'Alessandro, 13 Ferrari. 
Midfielders: 29 Brivio, 28 Juric, 20 Mesto, 77 Milanetto, 8 Roman, 88 Thiago Motta.
Forward: 18 Gasbarroni, 17 Jankovic, 22 Milito, 10 Palladino, 14 Sculli.
Genoa misses: Sokratis + Rossi (both banned after red card against Napoli), Modesto, Olivera, Paro + Potenza (injured) and Anthony Vanden Borre (disciplinary punished).