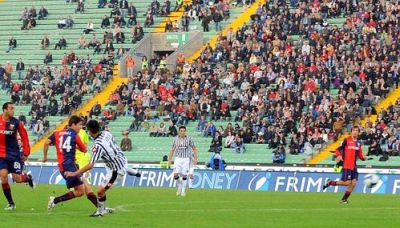 Last year Genoa and Udinese played 2 fantastic matches against each other with at the end 2 red and blue victories (3-2 and 5-3). The first match between the 2 most offensive playing teams in Italy today again was real promotion of football.
Mr. Gasperini left Mesto, Sculli and Rossi outside the line-up and at the last moment he had to start for the first time this season with Potenza because Sokratis got injured in the warning-up. Within 4 minutes Udinese took the lead by realizing a dubious penalty: 1-0. Genoa immediately reacted but goalkeeper Handanovic saved his team several times in the first half by great headers and shots of Motta, Gasbarroni and Milito.
In the second half Genoa again was the best team in the field, but again goalkeeper Handanovic stopped all the opportunities. In the 61st minute Mr. Gasperini substituted defender Criscito and striker Jankovic and brougth midfielder Rossi and striker Sculli in the team changing the 4-3-3 system into 3-4-3. Again we can say that our coach is a tactical wonder, because within 6 minutes Genoa scored twice. In the 64rd minute Vanden Borre forced referee Tagliavento to give also Genoa a dubious penalty that was realized by Diego Milito and 3 minutes later Giuseppe Sculli volleyed an assist of Milito behind Handanovic: 1-2. Unless the fact that Genoa did everything to play offensive the black and white of Udinese became stronger and stronger. In the 78th minute striker Quagliarella scored the 2-2 equalizer. In the last minutes both teams were close to score the winning goal, but this fantastic match did not deserve a losing team: 2-2.