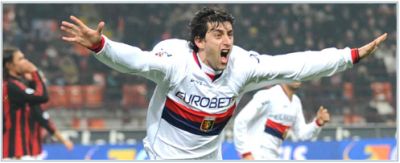 After the draws against Catania and Milan (both 1-1) we need a victory to stay on the 4th position in the standings. The matches against Palermo are usually full of goals: last year there was a draw (3-3) in Luigi Ferraris and a 3-2 victory of Genoa in the capital of Sicilly. In September 2008 we lost the first match this season by 2-1 (goal of Milito).
Mr Gasperini selected the following 19 players, from which Sokratis is doubtful because Saturday he had fever:
Goalkeepers: Rubinho, Scarpi
Defenders: Biava, Bocchetti, Criscito, D'Alessandro, Ferrari, Sokratis (?)
Midfielders: Juric, Mesto, Milanetto, Modesto, Rossi, Vanden Borre
Strikers: Jankovic, Milito, Olivera, Palladino, Sculli 
Genoa misses the injured Paro, Gasbarroni and Thiago Motta, while Roman played with the Primavera-team Saturday and Potenza 99% sure will play with Catania the rest of this season.