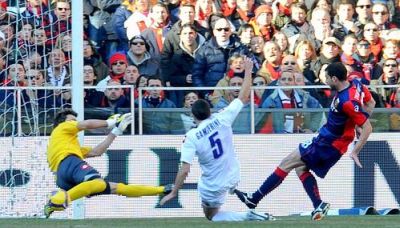 Three seconds before the last whistle of referee Rizzoli the 10 of Genoa (red card of Biava in 30th minute) still had the lead by 3-2 but our tired defenders could not kick the ball far away of their own goal any more. Everybody counted the seconds of the 3 minutes injurytime till after 2 minutes and 58 seconds Mutu scored his and Fiorentina's third goal: 3-3. There was not even time to take the kick-off any more. For a moment the many suffering years in Serie B and especially the horrible matches against Piacenza and Mantova came back in the mind, but now a few hours after the match we can only be proud that our boys played over an hour with only 10 players fantastic football and scored 2 times against a topteam like Fiorentina. Of course we had to win, but if we play like this it will not be a problem to reach European football.
Genoa started the match with Rossi and Mesto in the team, who both had a role in the first 2 goals of Genoa. In the 12th minute Marco Rossi passed the ball towards Motta who had a perfect combination with Milito and scored the opening goal. In the following 18 minutes Giuseppe Biava got 2 yellow cards, so Genoa had to play the rest of the match with 10 players. The sadness lasted only 8 minutes when Palladino scored a cross of Mesto who first had a fantastic run of 70 meters with the ball: 2-0. Halftime.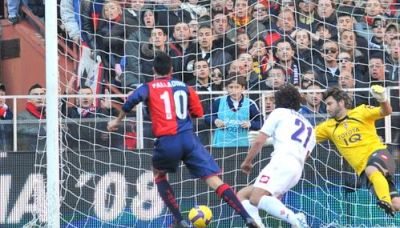 Also after the break the 10 Genoani were at least equal to the 11 Fiorentini. In the 56th minute Criscito was irregulary stopped in the penalyarea and Milito realized the penalty: 3-0. Match over ? Unfortunately not, Mutu first scored a penalty in the 59th minute, a free kick (that was touched by Motta in the wall) in the 80th minute and the last one in the 93rd minute: 3-3. After the defeat of Roma we are now alone on the 5th place with 41 points, 1 behind Fiorentina. Next week we play in Napoli without Biava and Juric.