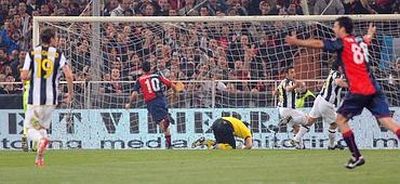 After A.C. Milan (2-0) and A.S. Roma (3-1), tonight also Juventus (3-2) is beaten by a fantastic playing Genoa. Since the season 1991-1992 Juventus did not lose in Luigi Ferraris, but tonight they deserved it more as ever before !
In the first half Genoa played their best football of this season and maybe the best in 17 years. After the Gasperini-boys missed several chances it was Thiago Motta who scored the opening goal in the 28th minute. Just before the shot of Motta there was a whistle in the stadium, so Juventus protested heavily against the goal and it helped: in the 45th minute referee Rocchi payed the black and white team back by giving them an incredible penalty. Matteo Ferrari with a sliding touched the ball just before Del Piero could shoot on the goal, but referee Rocchi whistled a penalty: 1-1. The whole stadium was singing: "thiefs, thiefs" to Juventus as a reference to the Moggi-years in which period many referees were payed by Juventus. During the singing it was Thiaggo Motta who scored his second goal out of a corner of Criscito by a fantastic header: 2-1, halftime.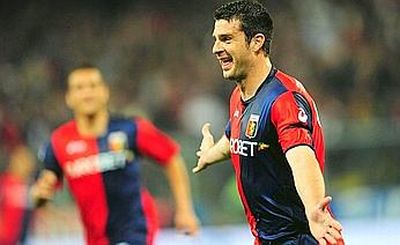 In the second half Genoa again was the best team in the field and the match seemed over when Camoranesi got a red card after a horrible action against Sculli in the 65th minute. With 11 against 10 Genoa got the best chances: a great header of Sculli was saved by Buffon and another header of Jankovic ended on the post, till in the 84th minute Iaquinta scored an undeserved and lucky typical Juventus-goal: 2-2. Genoa stayed calm and in the 88th minute the deserved winning goal was born: substitute Olivera reached the other substitute Rossi who passed the ball at the last moment towards one of the best players in the field Raffaele Palladino who beat Buffon easily: 3-2, another historical victory!