[youtube 5uX171gYzoU]
Genoa did win also the 2nd most important match of the season: the derby against Sampdoria. After the 0-1 victory in the first derby this year, now our Rossoblu team beat "the others of Genova" by 3-1. All 4 Genoa-goals in both derby's were scored by Milito.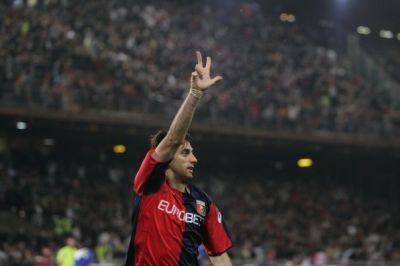 It has to be said: the first 25 minutes of the match Sampdoria was the best team in the field, but then Genoa and especially Milito start playing. In the 29th minute goalkeeper Castellazzi could hardly save a great shot of Diego into corner. As often the corner was precisly kicked by Juric on the head of Biava who headed the ball in the far corner of the goal where Diego Milito could easily score his 17th goal of the season: 1-0.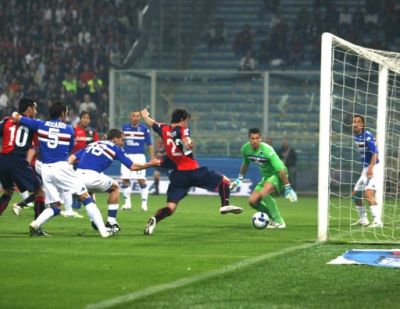 At the moment referee Morganti should whistle three times after the 3 minutes injury-time were played to stop the match because of halftime or 1 time because of off-side of Campagnaro, the Argentinian defender scored the equalizer: 1-1.
Just as in the first half also in the first minutes of the second part Sampdoria was the strongest team, but this time it lasted only a few minutes. In the 73rd minute the deserved goal arrived when Criscito blocked a ball that jumped towards Milito (in off-side position just as the equalizer of Sampdoria) who beat keeper Castellazzi easily: 2-1.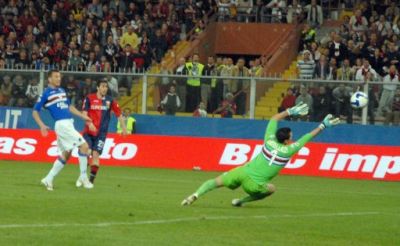 The last 23 (17 + 6 minutes injury-time) minutes were similar to the derby's in Serie B some years ago. Too much passion, nervosity, agressivity and frustation inbetween the lines to play good football. The match ended with 19 players after red cards of Ferrari and Motta of Genoa and Campagnaro of Sampdoria. Believe it or not, with 9 against 10 in the 93rd minute the 2 Genoa-players Palladino and Milito ran alone towards goalkeeper Castellazzi and after the pass of Palladino topscorer Diego Alberto Milito could easily score his 3rd goal: 3-1, game over ! Genoa is the boss in the city this year !