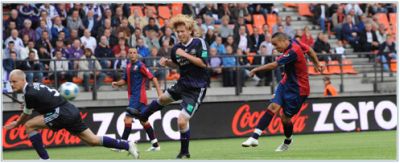 After beating Stubaital by 17-0 (topscorers Crespo and Floccari who both scored 3 times) and Rodengo Saiano (2-1, goals of Crespo and Sculli) the European adventure of Genoa started last Friday in Brussels against Anderlecht. The Belgium team already trained for 5 weeks because they play this week their first pre-round match of the Champions League, while Genoa only was in training for 11 days. Genoa got the support of 200 fans, including some Dutch members of Genoa Club Amsterdam.
Genoa started the match with the following team: Rubinho; Biava, Bocchetti, Moretti; Mesto, Kharja, Juric, Criscito; Sculli, Crespo and Jankovic. After 14 minutes Juhasz scored the opening goal, but only 12 minutes later our central midfieldplayer Houssine Kharja scored just outside the penaltyarea the equalizer: 1-1. Despite several chances both teams did not score anymore, so Genoa left Brussels with a draw.
Next Wednesday Genoa plays against Acqui (Serie D) and Saturday Olympique Nice is our following opponent. Wednesday 5th August we play in Reggio Emilia against their hometeam Reggiana (Serie C-1) and 3 days later we play against Pro Vercelli the team that was 7 times Champion of Italy in the past and now plays in Serie C-2. The pre-season ends with the match at Thursday 13th August in Spain against Villareal, exactly 7 days before the first match in the Europa League and 10 days before the start of Serie A.