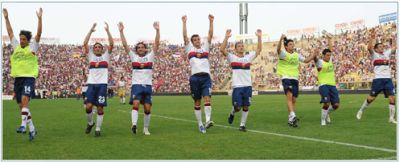 After 3 matches with only 1 point (2-2 against Juventus) Genoa was yesterday special guest at the 100th birthdayparty of Bologna with master of ceremonies referee Gervasoni. Stadium Renato Dall'Ara was filled with 30.000 enthousiastic fans waving with their red and blue Bologna-flags. The hometeam played in beautiful old traditonal shirts against our team with Esposito, Kharja, Milanetto, Modesto and Palladino in the line-up.
Bologna started the match very agressive and goalkeeper Amelia already had to make some saves in the first minutes. In the 10th minute Floccari ran inside the penaltyarea of Bologna and was irregulary stopped by Portanova: penalty ! Since Floccari missed the penalty against Chievo little playmaker Kharja is our new penaltyman and he realized the opportunity very calm: 0-1.
After the goal Genoa was the better team in the field, Bologna was clearly shocked they were 0-1 down while they played so good in the opening minutes. In the 35th minute Genoa doubled the scored with a great goal after a fantastic combination of Modesto and Palladino at the leftside of the field, Modesto played the ball towards Floccari who's cross was realized by Sculli: 0-2, halftime.
In the 2nd half referee Gervasoni did everything to help Bologna in their birthdaymatch. In the 9th minute he gave Mesto his second undeserved yellow card, so Genoa had to play with 10 against 11 the rest of the match. Every free-kick was given to Bologna and finally in the 85th minute he also gave the hometeam a ridiculous penalty that was realized by our ex-striker Marco di Vaio: 1-2. Of course Bologna did everything to score also the equalizer, but it was our substitute Nenad Tomovic who decided the match. In the 90th minute he received the ball a few meters over the halfwayline and he started to run towards the Bologna goal and passed 4 defenders, crossed the ball towards the other substitute Zapater who easily scored: 1-3, game over! We now are 5th in the standings with 13 points in 7 matches. The next match against Inter is Saturday 17th October.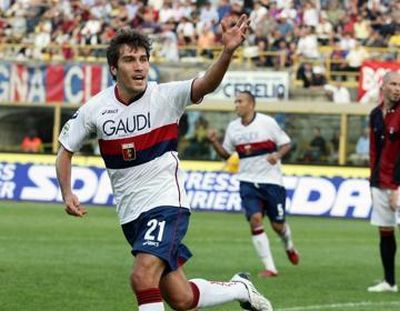 [youtube O797hgGnNzQ]