[youtube UlH-VHtNR6o]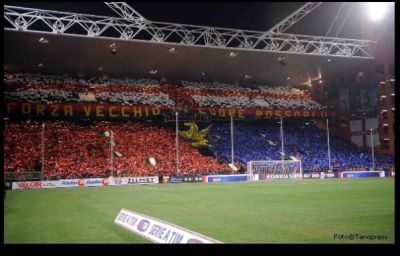 As usual Genoa-fans did win also the choreography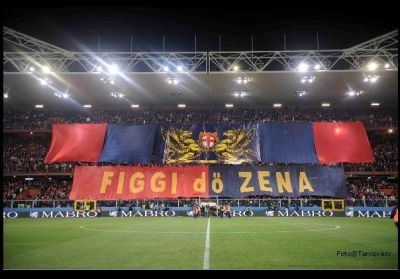 Figgi do Zena had their own choreography at Distinti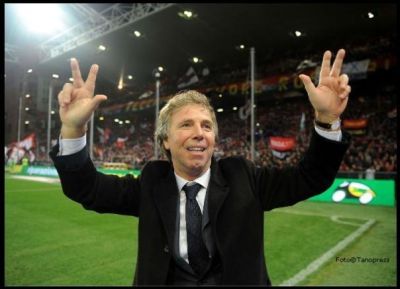 Also President Enrico Preziosi was very happy with the 3rd victory and again 3 goals
As usual the derby started 1 week before the match. The supporters of Sampdoria made a pamphlet that they would take revanche for the 2 defeats last season: "all the arrogant Genoani in and outside the field should return depressively to their homes after the big lesson of Sampdoria at Saturday 28 November." Of course we were all very frightened.
Mr. Gasperini again suprised the opponent, this time to play without a central forward. All the 3 wingplayers Palacio, Sculli and Palladino were in the line-up and changed their position constantly. The tactical move worked within 9 minutes when Palacio only could be stopped irregulary by Ziegler in the penaltyarea. Omar Milanetto scored the penalty: 1-0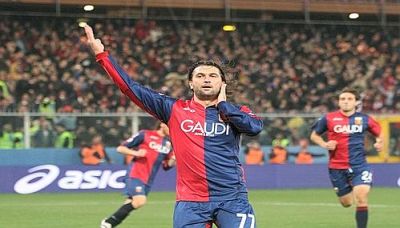 Also after the goal Genoa was the best team in the field and both Criscito (header on the crossbar) and Ziegler (shot the ball at his own post) were close to the 2nd goal. In the injury-time of the first half Giuseppe Biava got his second yellow card, so Sampdoria should start the 2nd half with 1 extra player in the field which gave them new hope unless the fact it was a miracle the score was still only 1-0.
Also 10 Genoani still controlled the match and were several times close to the 2nd goal, but goalkeeper Castellazzi saved the others of Genova at the beginning. In the 53rd also Castellazzi was without any chance when Marco Rossi scored out of an assist of man of the match Omar Milanetto: 2-0. In the 66th minute even Sampdoria lost a player with a red card and the match was played, especially when Raffaele Palladino scored the 2nd penalty after Sokratis was fouled in the penaltyarea, again by unlucky Ziegler: 3-0.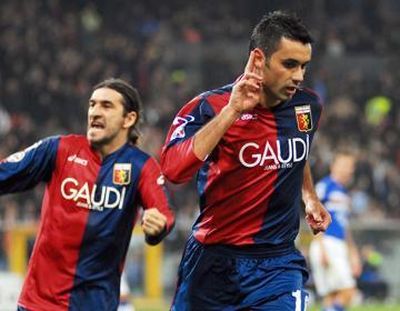 Both the Sampdoria players and fans reacted very frustated on the way of celebrating of Palladino. Especially Italian international and captain of Sampdoria Angelo Palombo lost his head and was saved by referee Rosetti who certainly had tot give him a red card. It was only a matter of time and the 2nd red card of Sampdoria arrived still when frustrated Cacciatore tried to break the legs of Ivan Juric. The numbers of the second half were clear: Genoa scored twice and Sampdoria lost 2 players with a red card. Genoa stays the boss in the city for at least another half a season. Grazie ragazzi, also without Diego Milito we are still the best in town !!