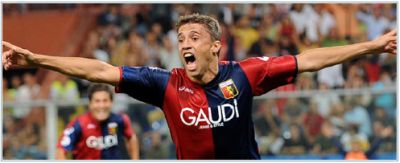 Genoa lost the deciding match against Spain's number 3 Valencia in the 95th minute by 1-2 at the moment the complete team tried to score the necessary winning goal. Especially in the 2nd half our team played very good which lead to the 1-1 equalizer of Hernan Crespo in the 51st minute. Because Lille beat Slavia Prague our red and blue boys had to win to stay in Europe after the winter, so the 1-1 on the scorebord was not enough. A fatal error of Alessio Scarpi who passed the ball towards David Villa meant the end of Genoa's European adventure 2009-2010. Let's hope we return sooner than the 17 years between 1992 and 2009. The final standings of group B with the number of Uefa-points at the beginning of the season.
Valencia   6-12     59.853 points
Lille         6-10      47.033 points
Genoa      6- 7      12.582 points
Slavia Pr.  6- 3      25.150 points 
Today the drawings in Nyon (Switzerland) brought nr. 2 of group B Lille with Fenerbahce, while the winner of this match will play against Liverpool …..