[youtube taSn2wd_vog]
As expected it wasn't an easy match in San Paolo stadium of Napoli that was filled with 60.000 fans, from which 1.000 with a red and blue hart. As usual in matches between Napoli and Genoa the atmosphere was very friendly between the fans.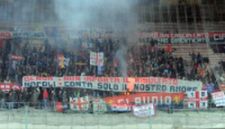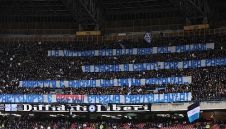 Unless the fact the suspension of Bocchetti was over, Genoa started the match with the same 3 experienced defenders as last week: Biava, Dainelli and Moretti. Ivan Juric had some little problems just before the match, so he was substituted by Sokratis. It was unusual to see that not our Gasperini-boys but the opponent Napoli was the most offensive team in the field. Genoa was saved by the post when Dainelli almost scored in his own goal and just before halftime by the crossbar (shot of Cannavaro). The only remarkeble goal-attempt of Genoa in the first half was a shot of Criscito that was saved by Napoli's goalkeeper De Sanctis. Halftime: 0-0.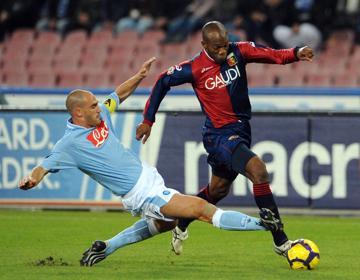 In the 2nd half Napoli became stronger and stronger, just as the rain, but our defense played very good. At the time the Napoli strikers finally broke through our defense our goalkeeper Amelia reacted fantastic. In the 56th minute our new striker since friday: Robert Acquafresca made his debut in our red and blue shirt, but also he could not change the score: 0-0.