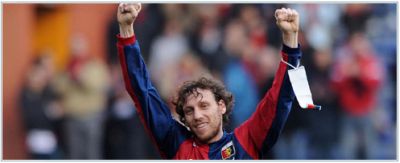 This afternoon Genoa did win the important match against Chievo Verona by 1-0. Our captain Marco Rossi scored the only goal in the 63rd minute. Genoa is now on the shared 7th position in the standings with Juventus, our opponent of next week.
Because Biava is sold to Lazio and Criscito was suspended because of his 4th yellow card last week Mr. Gasperini had to change the team. Our coach substituted Biava by Sokratis in defense and put Mesto on the midfield-position of Sokratis last week. Ivan Juric substituted Criscito on the left in midfield, Acquafresca played in stead of Suazo as central-forward and Sculli was on the wingposition of Mesto last week in Naples. Genoa started the match very good and Acquafresca almost scored, but a defender of Chievo ruined the joy of Robert's first goal with Genoa to kick the ball out of the goal after keeper Sorrentino was beaten. On the other side also our goalkeeper Marco Amelia had 2 perfect saves to keep his clean sheet since Genoa-Bari. Halftime: 0-0.
In the second half Genoa played much more agressive and just after Juric was changed by youngster Fatic our captain Marco Rossi scored with a perfect shot: 1-0. Unless the fact Mr. Gasperini substituted striker Palacio with defender Bocchetti our red and blue team stayed the most offensive team in the field. Omar Milanetto was close to the deciding 2-0, but his shot ended on the crossbar. After 95 minutes referee Ciampi finally whistled 3 times: 1-0, game over !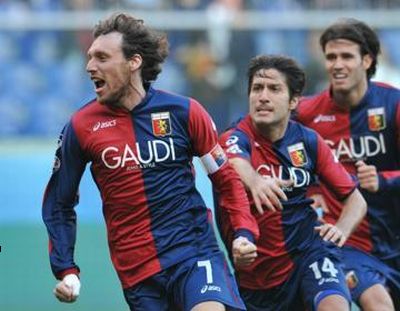 [youtube pbD-wkpOiNk]