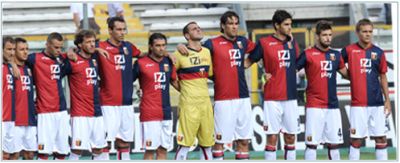 Today at 15.00 hours Genoa plays the 34th match of this season. Another victory can bring us at the left side of the standings and probably gives us the mathematical sureness of being in Serie A also next season. Mr. Ballardini misses Marco Rossi, Miguel Veloso and Bosko Jankovic in the team that did win the first match in Lecce by 3-1. The 19 players that have to bring us a happy easter:
GOALKEEPERS: 1 Eduardo, 88 Perin, 73 Scarpi.
DEFENDERS: 23 Antonelli, 4 Criscito, Dainelli, 13 Kaladze, 24 Moretti.
MIDFIELDERS: 29 Jelenic, 5 Konko, 33 Kucka, 20 Mesto, 77 Milanetto, 18 Rafinha.
STRIKERS: 9 Boselli, 22 Destro, 83 Floro Flores, 8 Palacio, 43 Paloschi