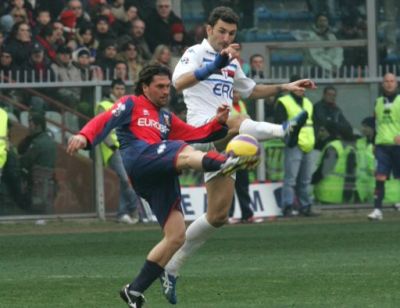 In the field tomorrownight in Stadio Olimpico there are no playmakers. Both playmakers of Genoa: Omar Milanetto (got injured yesterday at the training) and Matteo Paro (fantastic shot on the post in the first match this season) are injured like Francesco Totti of Roma. Also the other playmaker of A.S. Roma: Pizarro can not play tomorrow because he is banned after his yellow card last week in Cagliari. With Genoa both Ivan Juric and Abdoulay Konko have to substitute Omar Milanetto.
Today the airplane from Cristoforo Colombo took these 20 Genoa-players to Rome: 
Goalkeepers: 1 Lanza, 83 Rubinho, 73 Scarpi. 
Defenders: 3 Bovo, 18 Criscito, 25 De Rosa, 23 Ghinassi, 16 Lucarelli.
Midfielders: 8 Danilo, 29 Fabiano, 28 Juric, 24 Konko, 7 Rossi, 68 Vanden Borre.
Forwards: 22 Borriello, 21 Di Vaio, 9 Figueroa, 11 Leon, 14 Sculli, 38 Wilson.