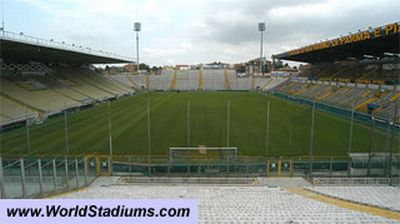 Just like last week, also today Genoa plays against a team that has to fight to stay in Serie A. Parma is with 31 points number 19 in the standings and with the last 3 matches against Genoa, Fiorentina and Inter close to relegation to Serie B. Today Parma also misses 9 players because of injuries and red and yellow cards, but after last week the team of Mr. Gasperini knows that without 100% inspiration and mentalility you lose every match in Serie A. Saturday-afternoon the following 20 players went by coach to Emilia:
Goalkeepers: Lanza, Scarpi, Rubinho.
Defenders: Bovo, Criscito, De Rosa, Ghinassi, Lucarelli, Santos.
Midfielders: Danilo, Juric, Konko, Milanetto, Rossi, Vanden Borre.
Forwards: Borriello, Figueroa, Leon, Sculli, Wilson.
Unless the fact that the 7th position – with the possibility to play Uefa-cup next season – is far away after last week, Genoa today will get the support of 2.000 fans. If Genoa would have won last week it should be at least 5.000.