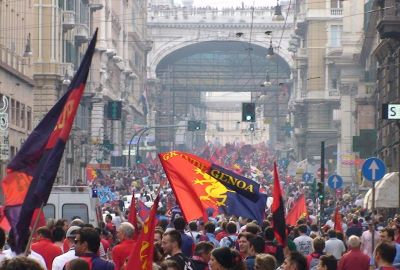 This morning Leon was not present at the last training because of heavy pain in his belly. Now our player from Honduras is towards the hospital to find out the exact injury. Hopefully our striker is healthy enough to go, just as the 20 other players, to the Sheraton hotel to prepare for the match against Lazio. To reach Intertoto (or Uefa-cup if Udinese don't fixx their stadium on time and Uefa insists in refusing to give the license to play) Genoa has to win tomorrow. Mr. Gasperini who misses the injured Paro, Masiero + Vanden Borre and banned Criscito + Di Vaio selected the following 20 players including yougsters Raggio Garibaldi, Torres and Ledesma:  
Goalkeepers: Rubinho, Scarpi
Defenders: Bovo, De Rosa, Ghinassi, Lucarelli, Santos.
Midfielders: Danilo, Fabiano, Juric, Konko, Milanetto, Raggio Garibaldi, Rossi, Torres.
Strikers: Borriello, Figueroa, Ledesma, Sculli, Wilson.