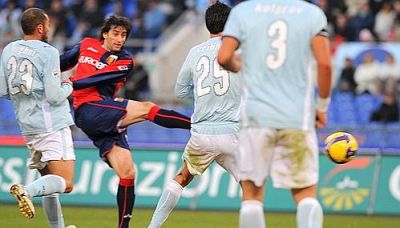 This morning almost every Genoa-supporter would sign for a draw in Rome against Lazio. Now after the match we can say that we lost 2 important points today.
Man of the match was without any doubt Diego Milito. In the 40th minute Diego scored a goal that was 100% valid, but the linesman put his flag in the air because of off-side. An incredible error because Diego stayed behind the ball, in which case you can never be in an off-side position. In the 53rd minute the referee wanted to repair the big mistake of the 1st half by giving Sculli a dubious penalty. In the 3 seasons Milito plays with Genoa he never missed a penalty, but today he did by shooting a little too high.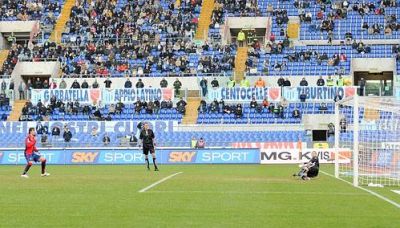 A regular player would be completely down after an irregular annulated goal and a missed penalty, but not our Diego. In the 69th minute a cross of Palladino ended by Mesto who gave the ball to Milito: 0-1. Exactly 10 minutes later Genoa was very close to double the score when Palladino got the ball by the goalkeeper of Lazio who had a lot of problems with a shot of Milito, but Raffaele failed to score. Within a minute on the other side Lazio scored the 1-1 equalizer, which was a big error of goalkeeper Rubinho.