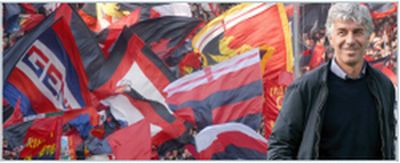 Our midfieldplayer with the lunghs of a horse, Giandomenico Mesto, is back in the team after his injury. Together with 19 other players he is selected by Mr. Gasperini and his staff to play against Lazio in Stadio Olimpico. Genoa will be supported by over 1000 supporters that make the trip of 505 kilometers towards the Capital of Italy. Last year Genoa beat Lazio by 1-2 with 2 goals (header and penalty) of Marco Borriello.
The 20 players of Mr. Gasperini:
Goalkeepers: Rubinho, Scarpi
Defenders: Biava, Bocchetti, Criscito, Ferrari, Potenza, Sokratis 
Midfielders: Brivio, Juric, Mesto, Roman, Rossi, Thiago Motta, Vanden Borre
Strikers: Gasbarroni, Milito, Olivera, Palladino, Sculli
Genoa misses the usual injured trio: Milanetto, Modesto and Paro, while Jankovic is not selected. Six players have to be carefull tomorrow because their next yellow card means a punishment: Biava, Bocchetti, Criscito, Juric, Rossi and Thiago Motta.