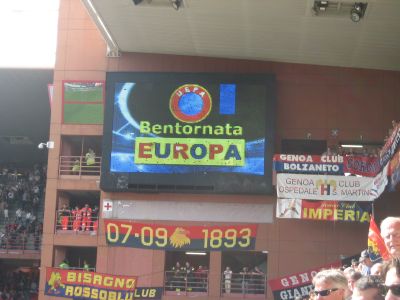 Exactly 17 years, 1 month and 2 days after Ajax-Genoa (1-1) we are back in Europe! Since the match in Amsterdam at 15th April 1992 Genoa played 5 years in Serie A (92-93, 93-94, 94-95, 07-08 and 08-09), 11 years in B and 1 season in Serie C-1 (05-06) because of the punishment after Genoa-Venezia. Now 3 years later we are back !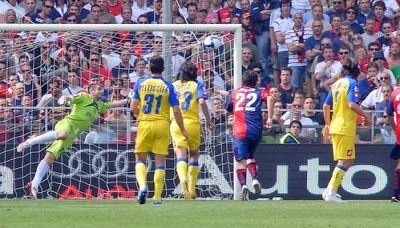 In the match against Chievo Verona the team of Mr. Gasperini missed 5 line-up players: Biava, Sokratis, Mesto, Criscito and Palladino and this was the reason our team did not reach the usual level. After Genoa missed several chances it was Pinzi of Chievo Verona in the 34th minute who scored on the other side of the field: 0-1. In the second half Genoa was stronger with Vanden Borre at right and Juric in his usual position on the leftside of the midfield. In the 57th minute Diego Milito earned a penalty, which he realized himself: 1-1. After 64 minutes Mr. Gasperini changed Sculli by Olivera and our Uruguyan striker scored a fantastic free-kick only 6 minutes later: 2-1. Unfortunately this was not the last goal in the match: in the 85th Pellissier scored the equalizer: 2-2.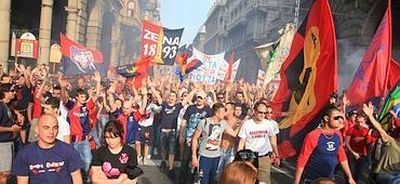 Genoa is still on the 5th position in the standings with 62 points, 5 less than Fiorentina but 5 more than Roma that plays in San Siro against Milan next week. If Genoa ends the season on the 5th position our boys have to play only 1 round of Europa League on 20th and 27th August to reach one of the 12 groups of 4 teams that play a full competition.
 [youtube MREsC3Kxf_I]