[youtube _lwnP5Ec5bc]
A beautiful European day to 2000 Genoani including the 6 members of Genoa Club Amsterdam (Ad, Bart, John, Paolo, Tim and Hans) ended in a disaster. In the morning we left Holland and 3 hours later we already reached the border of France. After a visit of Tournai to meet Luca and friends we went to Lille and entered the stadium together with Eugenio who took care of our tickets in the Main-stand.
Genoa started the match with Criscito, Juric and Rossi back in the line-up. Unfortunately we missed experienced defender Biava with influenza. In the first 38 minutes both teams were equal with only little opportunites to both sites. In the 38th minute Lille opened the score by a header of Obraniak. This goal and the fact that Criscito had to leave the field with an injury (did Mimmo start to soon after his injury?) changed the match completely.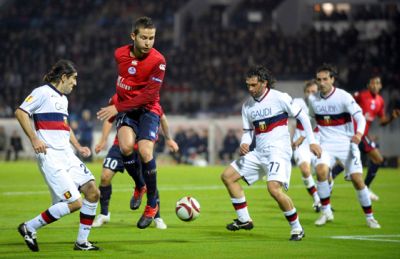 After the break Genoa tried to play more offensive to score the equalizer, but every minute Lille became stronger. Maybe the 0-5 defeat against Inter last Saturday still was in the mind of our players because it looked like that a lot of them did not had any self-confidence. In the 63rd minute the expected second goal of Lille was scored by Vittek.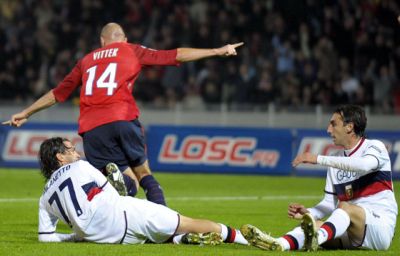 Also in the last half an hour Genoa tried to return in the match, but it never happened. Six minutes before the end also the last and most frustrating goal of the match was scored by Lille. A great run of youngster Hazard ended behind our goalkeeper Amelia: 3-0. The other match between Valencia and Slavia Praha ended in a 1-1 draw, so Genoa stays on the third position and has to win the next 2 matches against Lille and Slavia Praha to have a chance to be present in Europe after the winter.