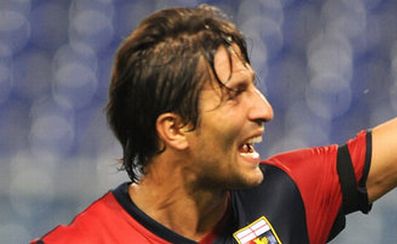 Was it the Dutch referee in the field ? The goals of Genoa-Lille were exactly equal with the match Genoa-Ajax 17 years ago, only this time Genoa in the role of Ajax. At halftime Genoa leaded by 1-0 thanks to the goal of Rodrigo Palacio (in April 1992 Ajax leaded by 1-0 thanks to Pettersson out of a cross of our member of honour Johnny van 't Schip).
In the beginning of the 2nd half Hernan Crespo doubled the score (just like Bryan Roy in 1992) and at the moment you think the match is played Lille scored twice in only 8 minutes (as Aguilera did against Ajax) making the score 2-2. A draw did not help Genoa anything in the race to the next round so in the last minutes the Gasperini boys did everything to win. Just like Aron Winter in 1992 this time Giuseppe Sculli scored the deciding 3-2 in the last minute. The first match of a lot of Dutch members of Genoa Club Amsterdam is finally played again with this time our Genoa as winner ! 
the video thanks to www.noigenoani.net (mille grazie) 
[youtube Q_9LnMIRbCo] 
the last goal on Radio Nostalgia by Pinuccio Brenzini
[youtube I4V6nF-fow4]
Because Valencia and Slavia draw in Praha (2-2 after Valencia leaded by 0-2), Lille is still on top of Group B with 7 points, Valencia and Genoa are both second with 6 points while Slavia Praha has only 2 points. The next round is on Wednesday 2nd December when Genoa plays in Praha and Valencia plays in Spain against Lille.