Genoa is out of the Coppa Italia. Our red and blue boys lost 1-2 against Catania, the same team we beat last Sunday by 2-0 in Serie A.
The biggest differences between the 2 matches: this time Genoa played with 6 substitutes and referee Velotto. After Catania took the lead by 0-2 (2 goals of Plasmati) in the first 7 minutes it was Genoa that made the match. In the 56th minute Marco Rossi scored 1-2 and all 7.600 fans in the stadium waited (and hoped) for the equalizer. Only referee Velotto did not want that Genoa would return in the match, because in the 58th minute he gave a red card to both Sokratis and Marco Rossi (Captain of Genoa who protested against the red card of Sokratis) so Genoa had to end the match with 9 players. Believe it or not, also with only 9 players Genoa was close to the deserved equalizer when Hernan Crespo's shot touched the post in the 89th minute. The 9 players of Genoa did fight like lions, but it did not succeed: 1-2 and Catania plays in the quarter finals against A.S. Roma, our opponent of next Sunday.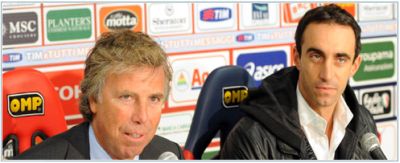 After the match, also some happy news. Experienced defender Dario Dainelli was presented to the press. Sunday he plays his first match with Genoa against his old Fiorentina-friend Luca Toni, the new striker of A.S. Roma.