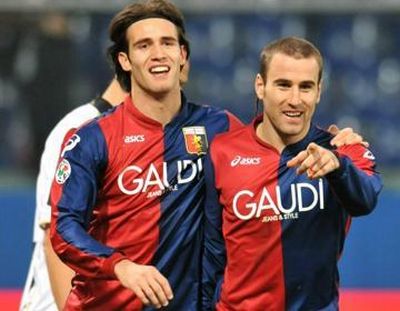 Yesterday-evening Genoa beat Udinese by 3-0. Our new central-forward Robert Acquafresca scored twice, while our returned Argentinian wing-striker Rodrigo Palacio scored the last goal. We have now 38 points in 25 matches and are 9th in the standings.
Mr. Gasperini again started with his new defence: Sokratis, Dainelli and Moretti and for the first time with the 3 strikers: Palacio, Acquafresca and Sculli. In the beginning of the match Udinese played good, maybe even better than our boys, but after 30 minutes the match changed. After goalkeeper Handanovic stopped a great shot of Sculli it was Acquafresca who scored in the rebound: 1-0, first goal of Acquafresca in Rossoblu. Despite serveral chances with this score also halftime arrived.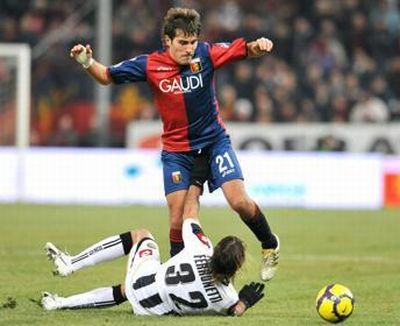 In the 2nd half Genoa played towards Gradinata Nord, as often the most favorite direction of the players. In the 8th minute Genoa got a corner. At the far post Acquafresca surprised defender Coda of Udinese but before our new talented striker could score he was stopped by Coda: penalty. It was only a delay of a minute before Acquafresca could score his first goal in front of Gradinata Nord because he scored the penalty himself: 2-0. Just a litte more then 10 minutes later Palacio headed the 3-0 behind Handanovic after a good cross of Sculli. In the last 15 minutes Jankovic returned after his heavy injury for the first time this season in our team as substitute of Robert Acquafresca who deserved the standing ovation of the public. 
[youtube pYp7H2oMdXE]